Olds Engineering, a brief History
The Late Wm. Olds first set up in business after returning to Australia at the close of the 1914-1918 war. He engaged in light engineering and the manufacture of OHV marine and stationary engines. Various agencies were also held. Honesty, skill, pride in workmanship and a desire to serve and solve problems for clients earned him the reputation which continues today.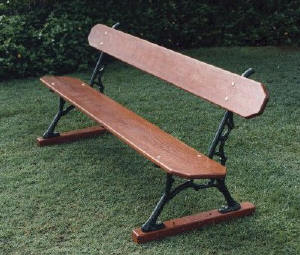 The old saying that "variety is the spice of life" a very true fact in the success of Olds Engineering.
In the same week recently when the propellers and shaft assemblies were delivered, a large consignment of boiler assembly components were sent to the Lakes Creek Meat Works in Rockhampton, and forty aircraft engine sumps were sent to Bundaberg. Half a dozen Heritage garden seats and table settings were sent to the Hermit Park School in Townsville. In the machine shop a die was being finished for a Gladstone company, while nearby four pairs of exhaust manifolds for Silver Ghost Rolls Royce cars were nearing completion for a customer in the south.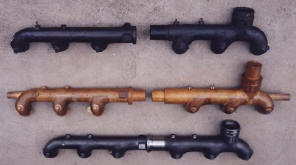 The finishing touches were being given to locomotive headlight assemblies for a Melbourne order, while in one corner of the shop a brand new OHV 'Olds' engine was being run in prior to painting and delivery to a hire boat operator at Tin Can Bay.
Besides this work the usual everyday orders were being processed to keep the wolf from the door.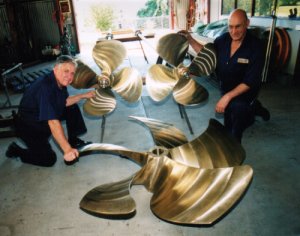 The 8.5 metre long propeller shaft assemblies were made up to order and fitted with 860mm diameter matched propellers. These were packed along with other items into three crates and shipped to Lae, PNG.
The 1480 mm diameter 5, bladed propeller in the foreground of the photo is a new generation design in propellers made in Western Australia. Ordered especially for Schulz Fisheries of Urangan it is expected to give greater fuel economy, such an important factor with the higher oil prices experienced today.
Wm. Olds & Sons Pty. Ltd. trading as OLDS ENGINEERING
ABN 33 009 859 250 - MECHANICAL ENGINEERING & FOUNDRY
78-80 North Street, Maryborough Q, 4650 Australia
P.O. Box 3030, Pallas St. Post Office, Maryborough Q, 4650
Phone: 07 4121 3649 Fax: 07 4123 3590 International Phone +61 7 4121 3649 Fax: +61 7 4123 3590
Innovative Engineering Excellence ~ serving over 100 years